Getting in touch is easy.
We are here to answer any questions you may have. Reach out to use and we'll respond as soon as we can.
Please feel free to contact us using the form below.


Hi! I'm a certified personal trainer and three times national champion of the International Federation of Bodybuilders (IFBB).I've been working in the fitness industry for almost 20 years and competing on national and international stages as a bodybuilder for almost 30 years.
Between myself and my coaching partner, we represent some of the best insider knowledge for muscle building in the world. In a nutshell, we leave nothing to chance and cover very single variable vital to achieving muscular growth.
My days are happily spent teaching people how to exercise properly and develop individualized nutrition programs. My goal is to improve the health of my clients through prevention and education which will result in a longer, healthier life, and better progress in the gym.
Your success is my number one focus!
— Certified Personal Trainer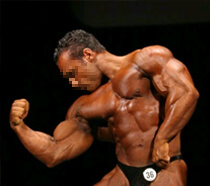 I'm a nutrition counselor and former IFBB professional athlete (15 years) and I will get you in the best shape of your life. I show you how to achieve fitness goals, maintain healthy fitness habits and I can also teach you how to incorporate outstanding and proven steroid cycles. For me this is a lifestyle, with no compromises.
I provide full on and off season competition preparation and coaching, including nutrition, anabolic steroids, supplements, posing and stagecraft. I use a monitored and measured training system, and an exclusive range of scientifically backed supplements.
Don't waste months or even years simply spinning your wheels and never reaching your genetic potential. We pay particularly close attention to nutrition and the latest dietary supplementation. We've found that many trainers focus on exercise to the detriment of proper cycle advice and guidance. This is the polar opposite of the approach we take as we know that what you use and how you use it is as crucial to your progress as how you train in the gym.
Our workouts and cycles are designed to overcome all plateaus and enable you to pack on the most muscle in the shortest possible time.
— Nutrition Counselor